Welcome to B's Wings Pet Services! We have been operating our Dog Walking and Companion Visit Services since 2016, and our licenced Home Boarding and Day Care Service since 2017. We are proud to have been awarded the highest grade 5 Star Licence in 2019.
Hi, I'm Bridget
When I was made redundant in 2016, I decided to turn my skills and passion about animals and the outdoors a business. I am a professional Dog Walker accredited by the British College of Canine Studies. The qualification covers Breed Specifics, handling conflict and reading canine body language amongst other relevant topics. I have certificates in Canine First Aid and attend courses on Dog Welfare as frequently as possible. I am fully insured and DBS checked. I am a passionate animal lover. I have always owned and worked with animals – young, old, disabled, grumpy, hyper, rescued, not rescued….and I am skilled in their care. I am experienced in the administration of medicine, including insulin injections and tablet administration. I have arrangements with my vet that any animal in my care can have urgent appointments should they be required.
Something that is really important to me is enabling people to keep their animal companions all their lives. Why should you have to give up your best friend if you can't walk, brush your pet or drive any more? Isolation and loneliness are killers, so I want to help elderly people and people with disabilities to keep their friends – pet therapy has proven benefits. My family consists of me, my husband, our rescue Westie girl and rescue cross breed boy.
So why is the business called B's Wings? I am B… B for Bridget. And you know the old phrase 'taking someone under your wing' means to take care of someone and look after them? Well, that is what I do. The team also consists of two trusted friends who work part-time, helping with group walks, walking dogs on their own, companion visits and looking after boarding dogs if I have to go out.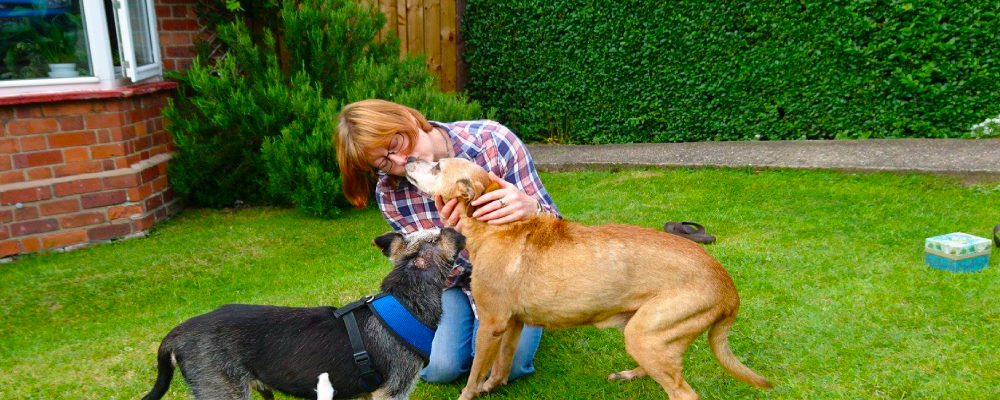 B's Wings helped me out personally at a tricky time, moving home and between houses. My two Labradoodles, Dottie and Stan, instantly fell in love with her and her different canine troops each time they went for a walk. It's not only the obvious care and attention Bridget brings to the individual dogs but also the thought that goes into each walk in terms of venue, the mix of dogs and their different personalities and needs. "Aunty B" is also super reliable, always on time and unashamedly communicative. Can't recommend her highly enough. Tara Madgwick